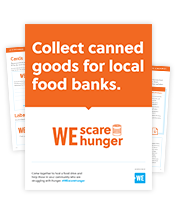 WE Scare Hunger Event
Devan Bartels
Thursday, October 01, 2020
SALT (Service Adventure Leadership Team) will be continuing it's annual WE Scare Hunger campaign on Saturday, October 31st, from 5:00 PM to 8:30 PM. SALT members will be knocking on doors in Crosby, Ironton, and Deerwood, collecting non-perishable food items to donate to the Cuyuna Food Shelf.
-Members will wear masks and respect Covid-19 guidelines.
-If you would like to donate but need to limit personal interactions, you are welcome to place donations on your doorstep for members to collect.
Thank you for your past donations to WE Scare Hunger!