Today is the day! Don't forget to head to the CRES parking lot for preschool enrollment information this evening.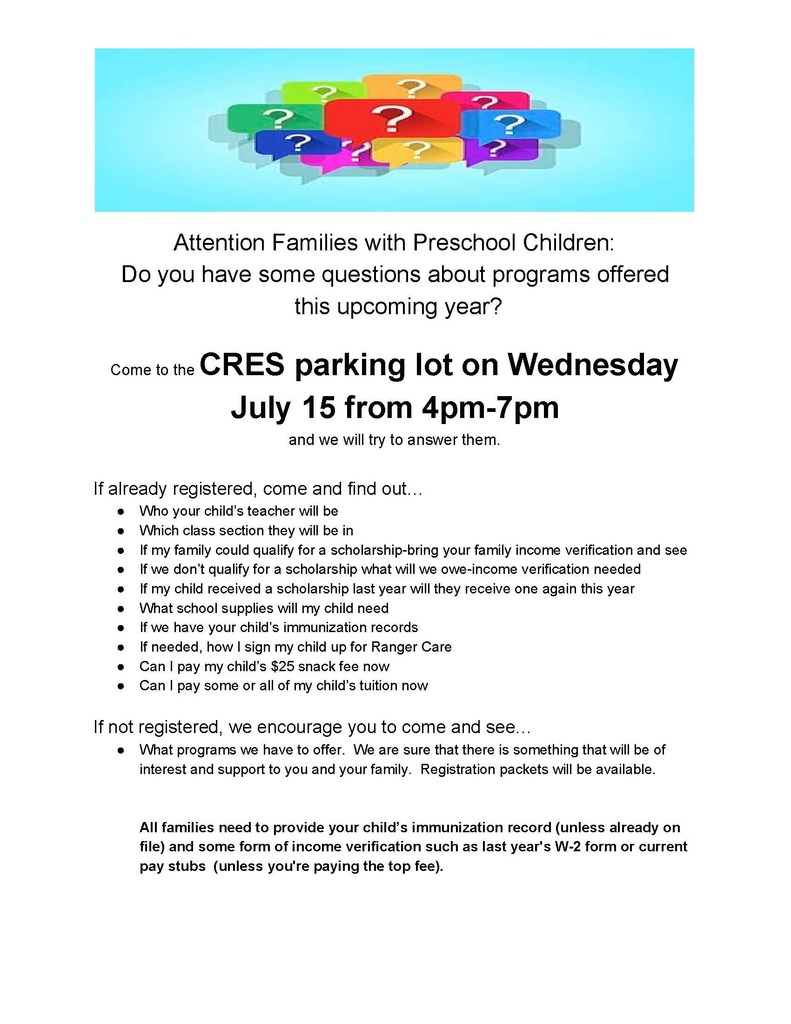 Reminder: The High School is hosting a blood drive, Friday, July 17, from 10am-4pm. Please call and schedule your appointment today!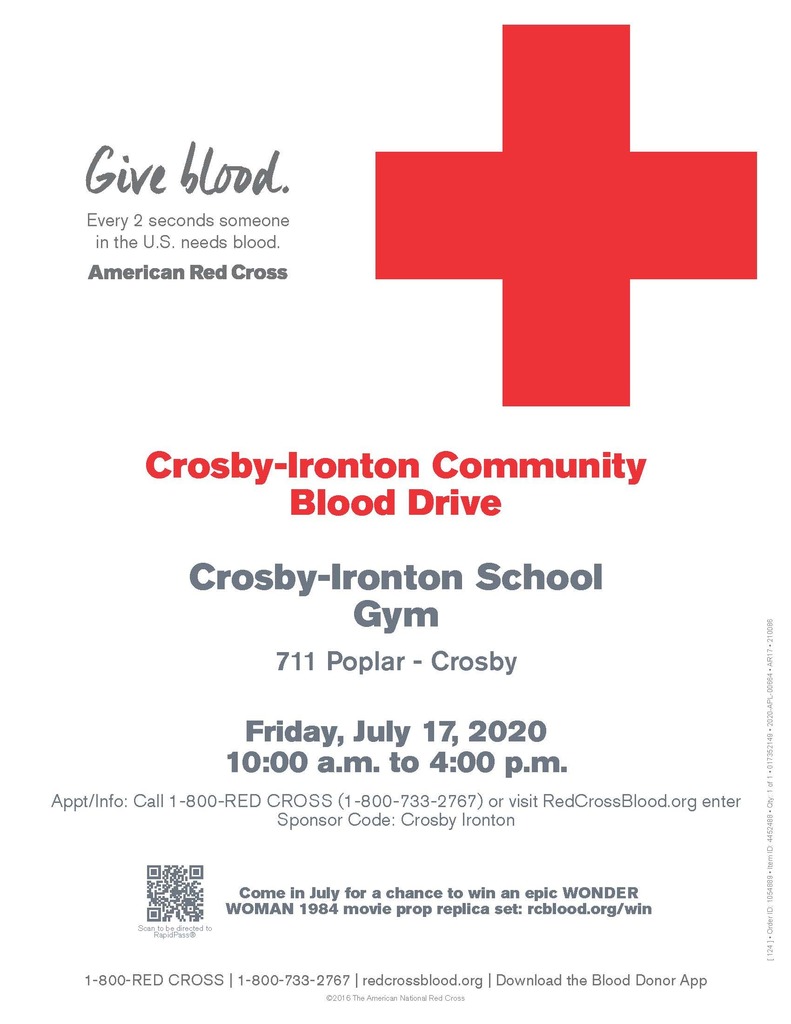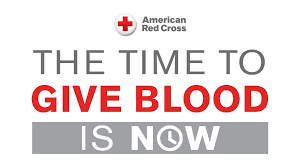 If you are a family with preschool children, don't forget to stop at CRES, July 15 from 4:00-7:00 pm, to get your questions answered about enrollment!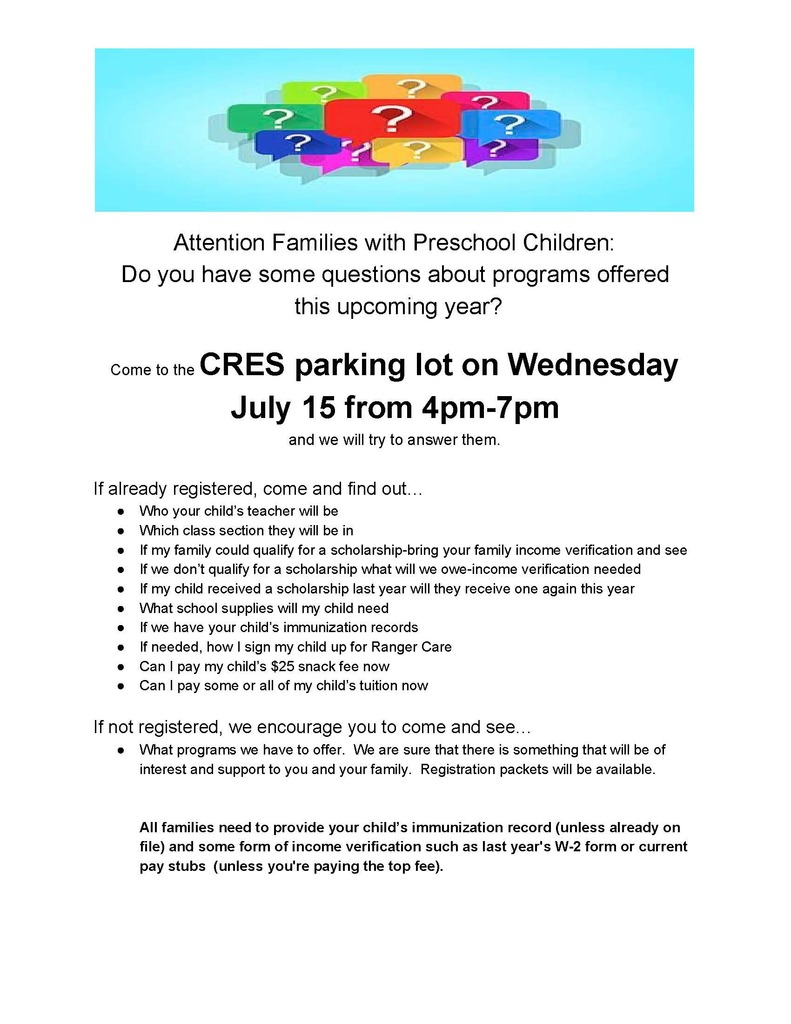 The Cuyuna Range Youth Center, in Crosby, will be providing weekend food and hygiene packs, on Fridays, from 4-7 p.m., until further notice. This opportunity is open to everyone!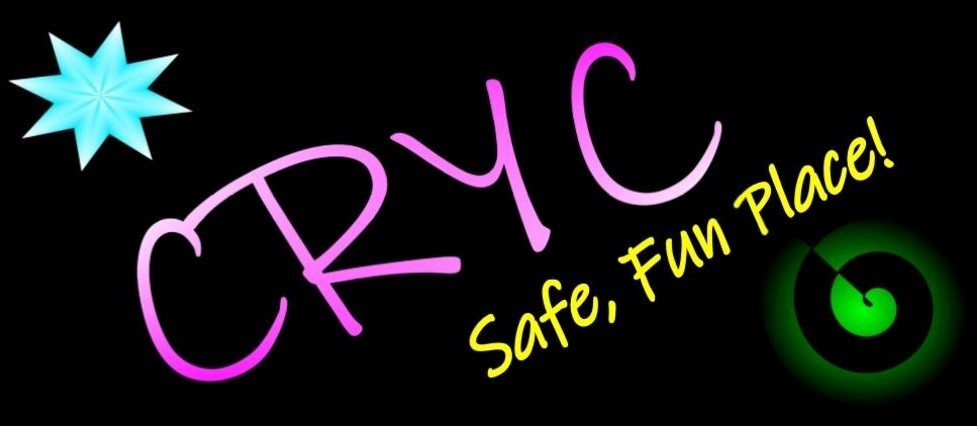 Reminder - CRES Send Off to Summer Thursday, May 28th, 3 - 3:30pm. Please remember to enter the CRES bus loop coming south on County Road 31 (as if heading from Cuyuna towards Crosby), so you can make a right hand turn into the bus loop. Please also remember to remain in your vehicle. We look forward to seeing you!


Lunch Bunch will be available again this summer, thanks to many organizations. Check out the flyer for more information.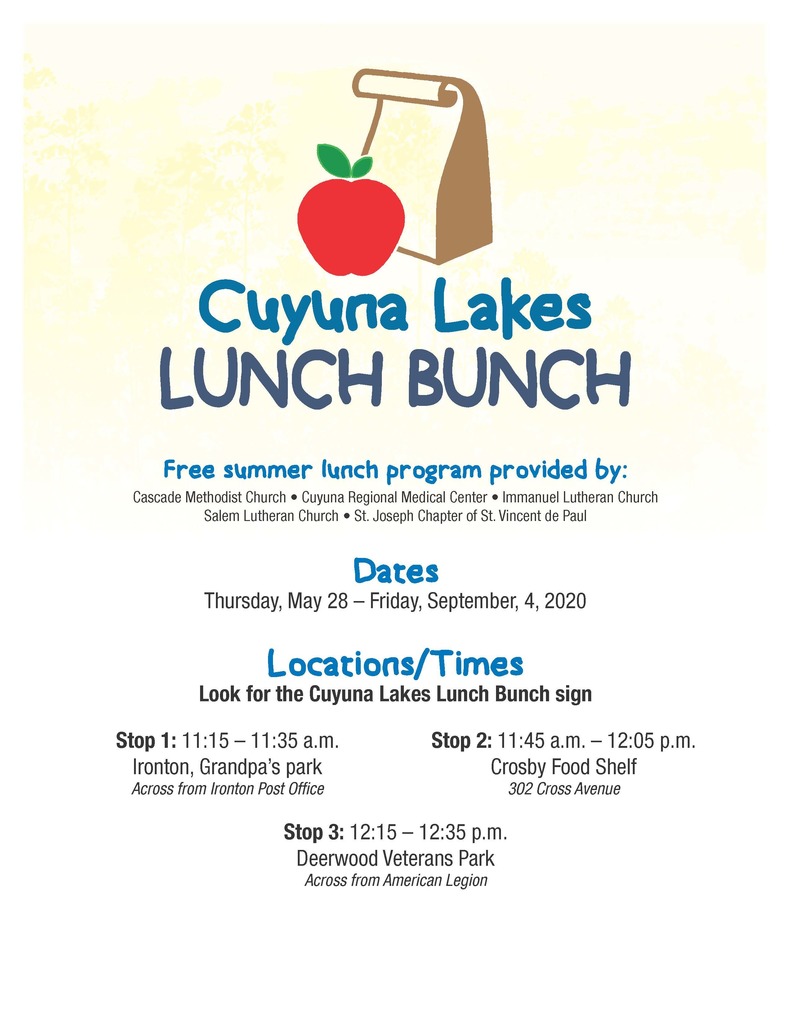 CRES Send Off to Summer Any child who has rode the bus home from CRES on the last day of school knows the routine. Teachers and support staff line the bus loop, wave to the departing buses, and often blow bubbles. With the realities of this year, that isn't going to happen. The staff at CRES would like to make the best of this situation. CRES students and families are invited to a Send Off to Summer event at CRES on Thursday, May 28th from 3 - 3:30pm. CRES staff will be lining the bus loop. Students are invited to drive through the bus loop with their families. Families are asked to drive their vehicles south on County Road 31 (as if they are driving from Cuyuna into Crosby), so they can make a right hand turn into the bus loop. This will allow other traffic to continue in the second south bound lane. Upon entering the bus loop, we ask families to remain in their car. Feel free to roll down your window, wave, and say a few quick words to your favorite staff members. As you leave the bus loop, please exit the bus loop by taking a right onto County Road 31. Law enforcement will be on hand to help with congestion. During this send off, two special teachers will also be recognized for their many years of dedication to the students at Cuyuna Range Elementary School. May 28th will be Jane Moore and Jody Perrine's last day of school. We would also like to invite former students and former co-workers of Mrs. Moore and Mrs. Perrine to drive through the bus loop to send them congratulations and best wishes. Everyone at CRES is very proud of the efforts of their students and families during these challenging times of distance learning. We hope to see you at the Send Off to Summer!


School Board Meeting will be held via Zoom, today, at 6:00 p.m. If you are interested in joining the meeting, please email Carmen at
czahn@ci.k12.mn.us
and she will get you the needed information. Thank you!

Seniors, Families, Crosby-Ironton School District Staff, Scholarship Donors, and Community Members: You are invited to attend our Virtual Senior Awards Night on Monday, May 18th, at 7:00 p.m. Please join us on Crosby-Ironton's School District's Facebook page to celebrate our Class of 2020 and their accomplishments. If you are unable to watch it at 7:00 pm, the link will be available on Facebook, our School Website, and sent to families and donors in an email after the event takes place. Seniors will be able to pick up all of their Awards and Scholarship Certificates, Pins, and Cords on Wednesday, May 20th, in the North Entryway from 9:00-11:30 a.m. and 12:30-3:00 p.m. Please contact the Main Office if you need to make other arrangements.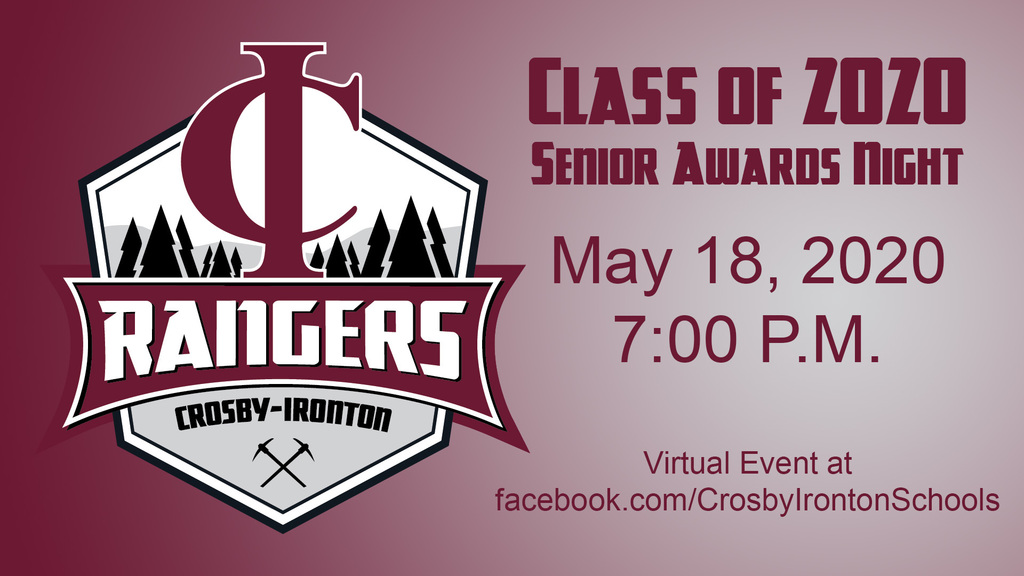 CRES 3rd graders were able to complete a math escape room, earlier this week, with the 3rd-grade team and the Title teachers. Everyone had a blast! Great job, 3rd graders! We miss you and we are proud of you!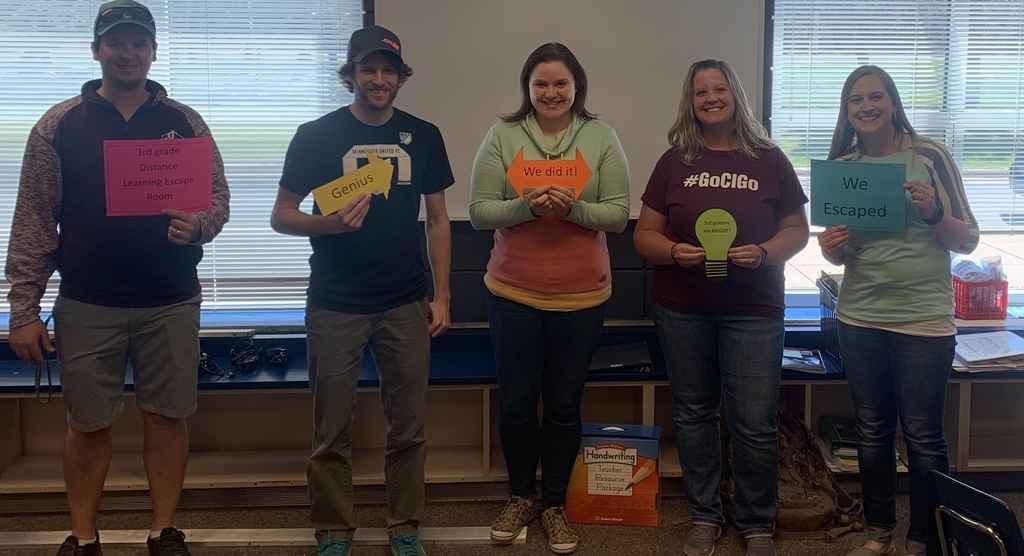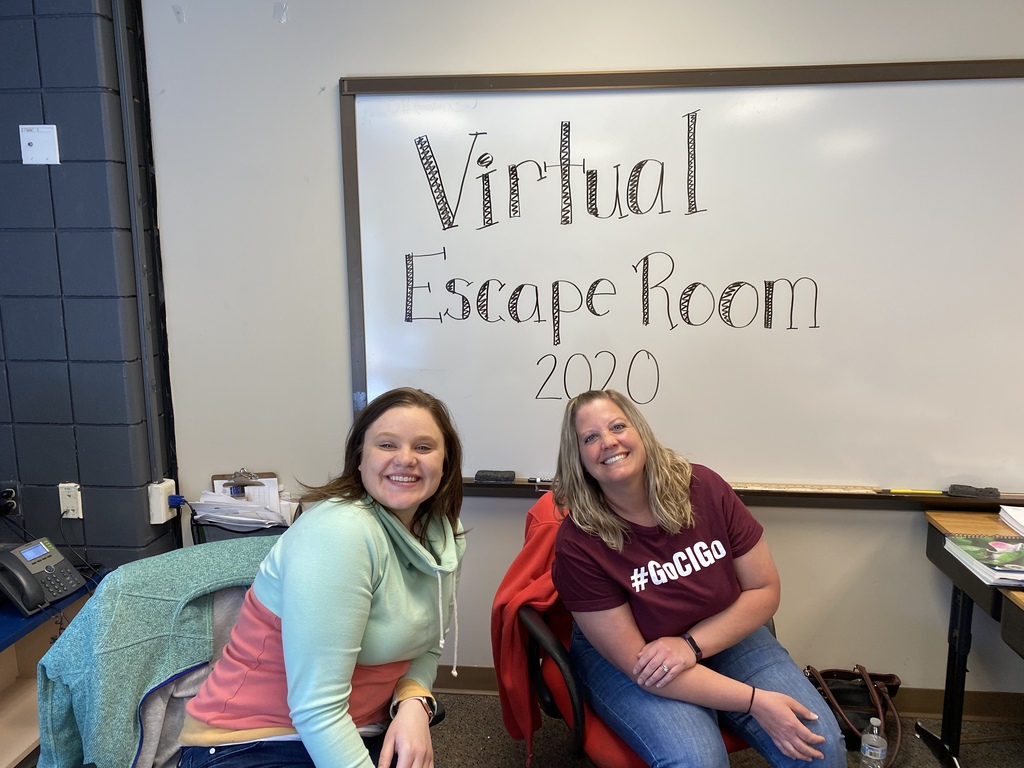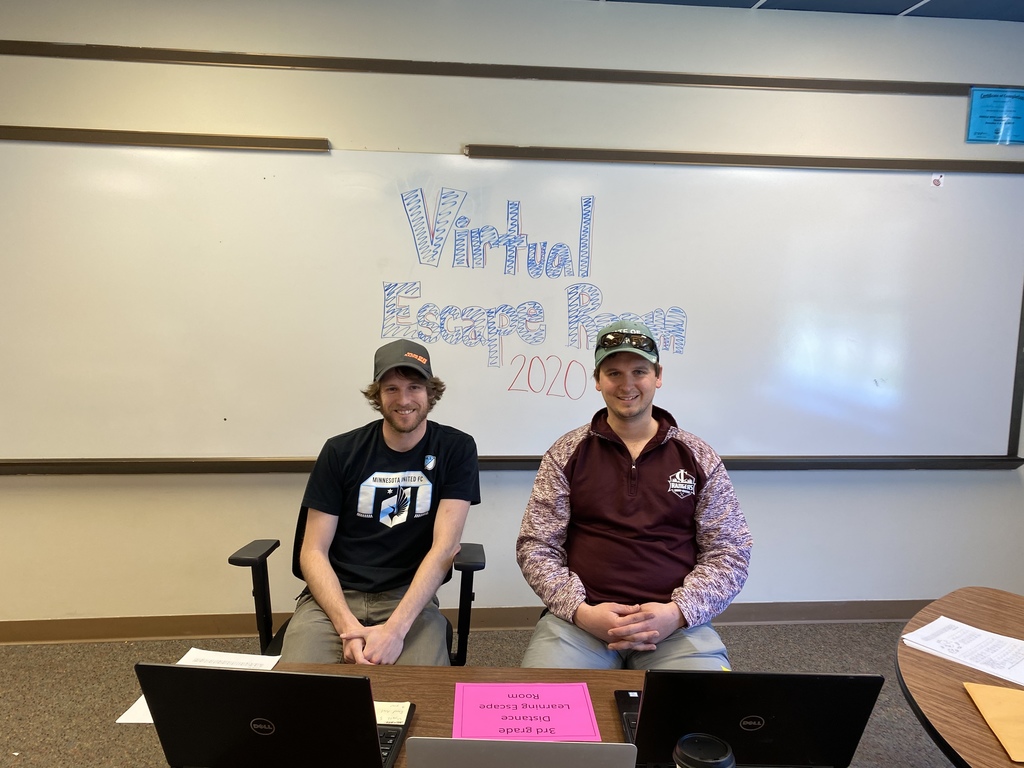 May 4-8 is Teacher Appreciation Week. Take a moment and thank your teachers!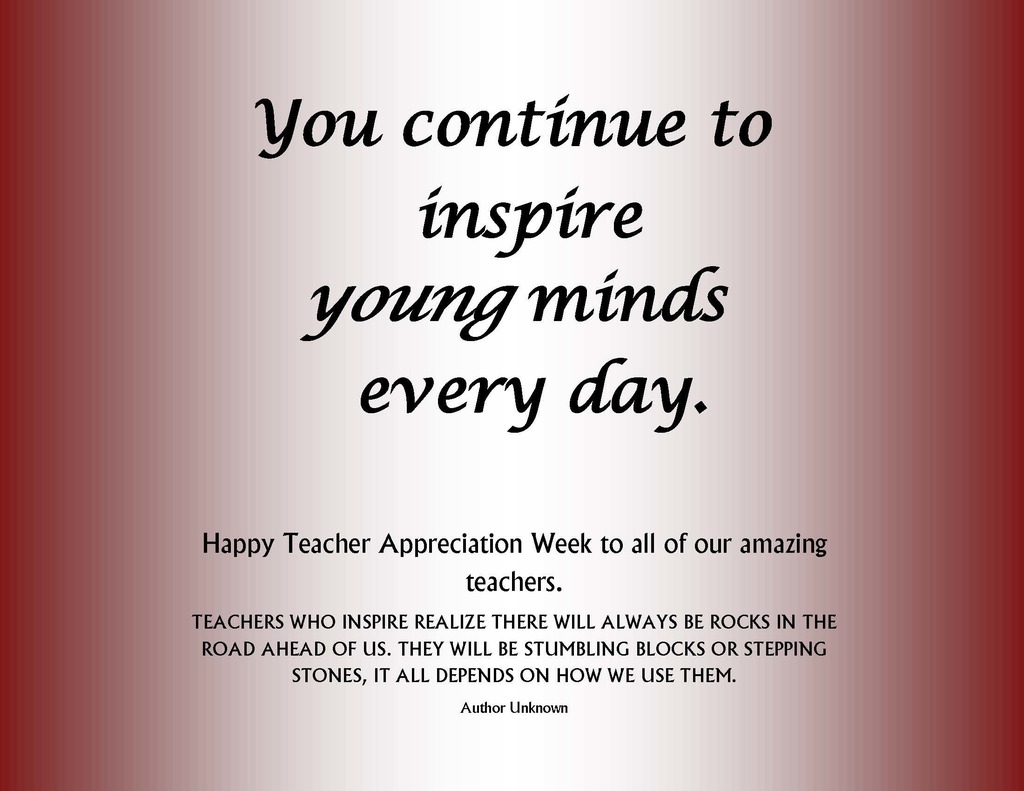 CRES Yearbooks have arrived! If you pre-ordered and receive a packet on the bus, they will be in your Monday May 11th packets. If you do not receive a packet and pre-ordered, please come to the CRES Office to pick up. They will be available for purchase in the school office as well from the hours of 7:30-4:00pm.

Attention Camp Invention Campers, Due to the disruptions and challenges of COVID-19, we will not be hosting Camp Invention this summer. You will be receiving an email from Camp Invention Headquarters. This will provide details regarding offering all campers a virtual experience with Camp Invention Connect. If you choose to take part in Camp Invention Connect, they will send you a "boxed" camp to your home with all of the materials. Then your child can access digital resources to go through the camp activities. However, you also have the option to cancel everything and get a complete refund. If you would like to receive a refund, please call 800-968-4332. Please contact Allison Larsen at
alarsen@ci.k12.mn.us
with any additional questions. Thank you!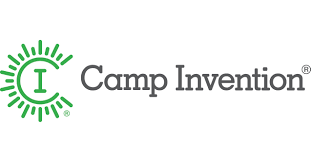 A huge shout-out to our school nurses, Hanna and Raye! Thank you for keeping our students and staff safe and healthy!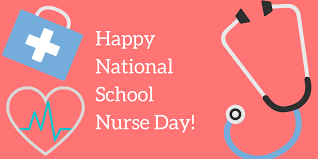 Childcare was busy celebrating Star Wars yesterday. They made puppets, a baby Yoda, worked in a Star Wars activity book, and they all received a light saber bubble wand. May the 4th be with you!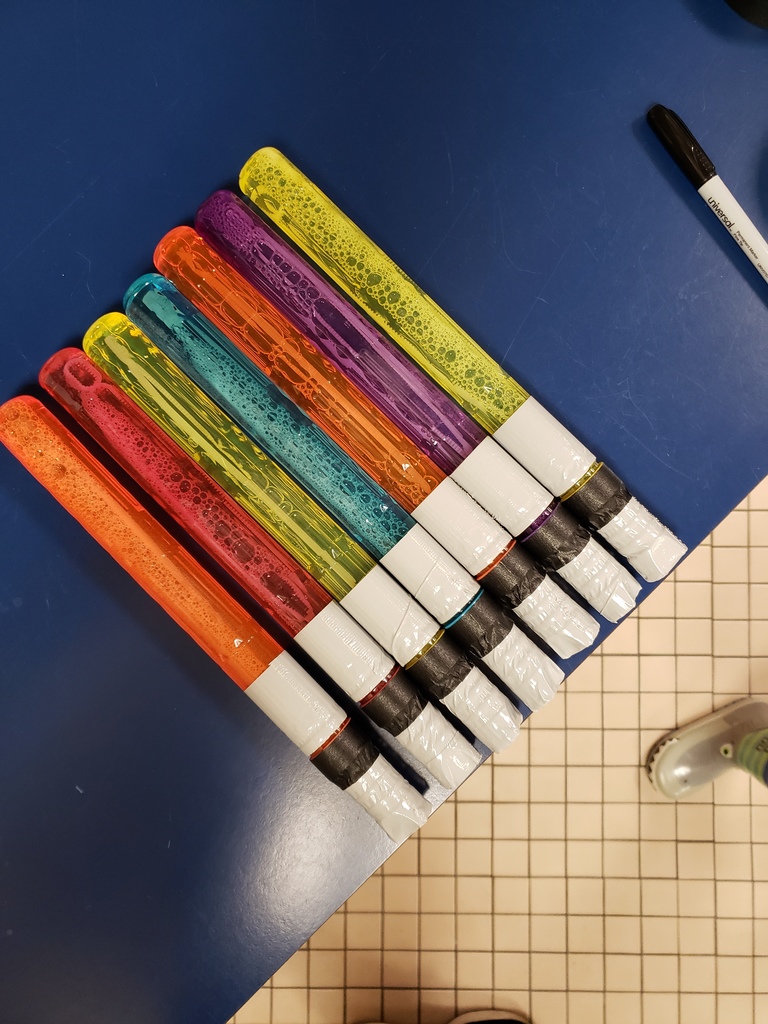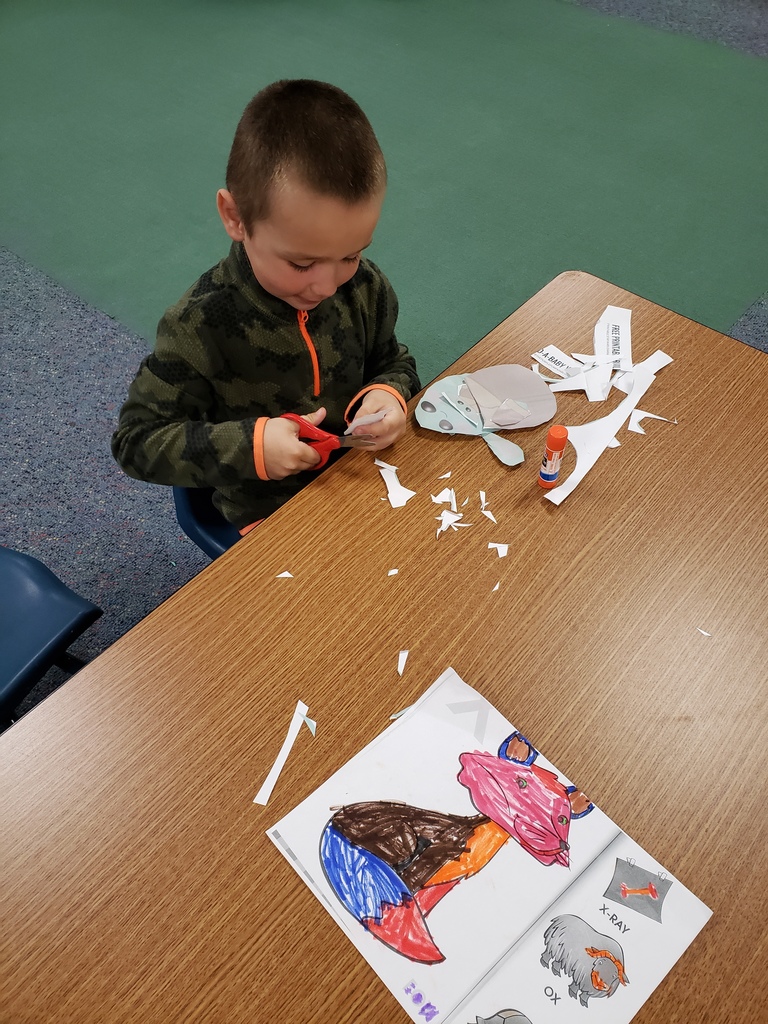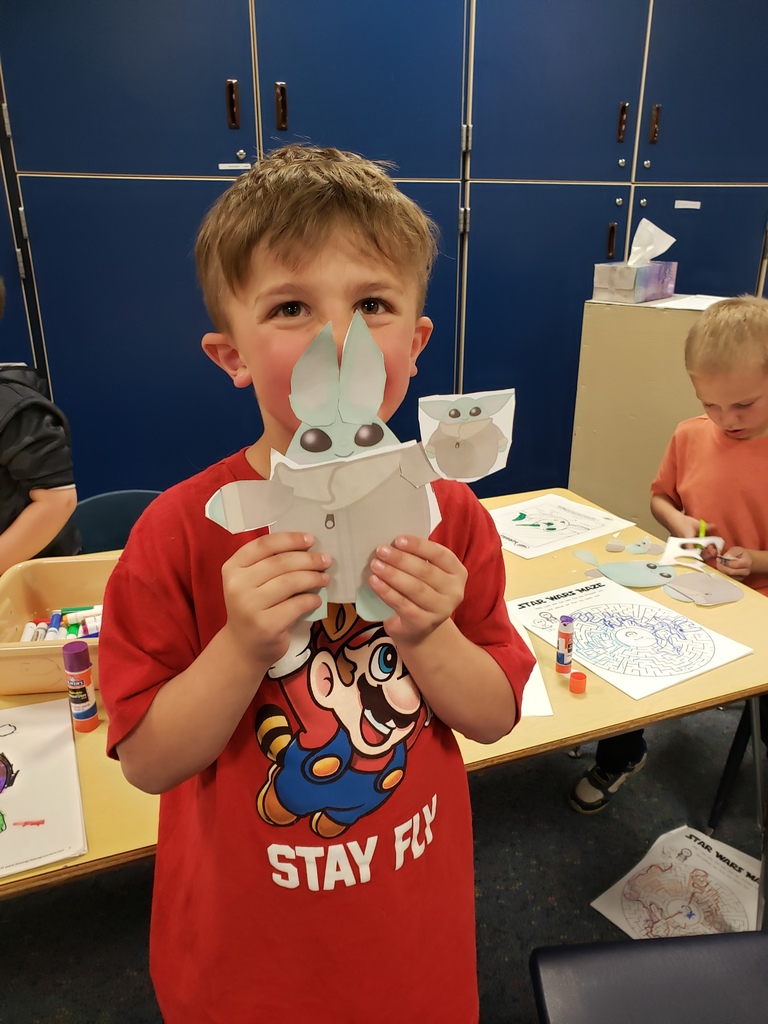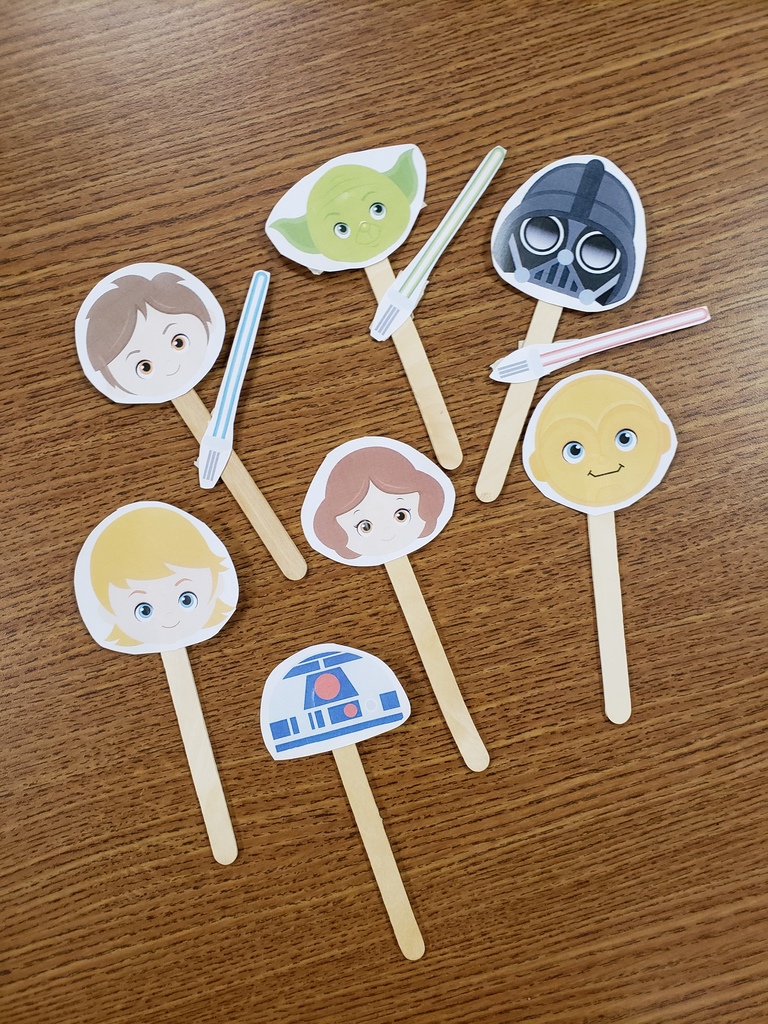 Crosby-Ironton's Student Action Leadership Team (SALT) would like to challenge our school district to clean up the community! During this time of quarantine, it is important for your health to stay active, so on a nice day, we encourage you to clean up an area of the community that needs your help. Keep in mind, we want everyone to stay safe, so please make sure to follow the rules of social distancing; this is not a gathering nor are we asking you to travel, but it is something you can do individually or as a family. When you clean up an area, I ask that you send a ten second clip to
save.ci.community@gmail.com
, as the clips will be compiled into a video of everyone who participates towards cleaning up the Crosby-Ironton community. Please send in videos by May 26. Please take a moment out of your day to give a little back to your community and planet. This is a great opportunity to get outside and have something to do. Thank you to anyone who participated in our area!

Our 3rd grade teachers, miss their students VERY much! So, they have sent out a special mailer, of themselves, to each of their students. Now, each student can take their teacher with them on any adventure they choose. The 3rd grade teachers can't wait to see and hear about where they have gone and what they have done!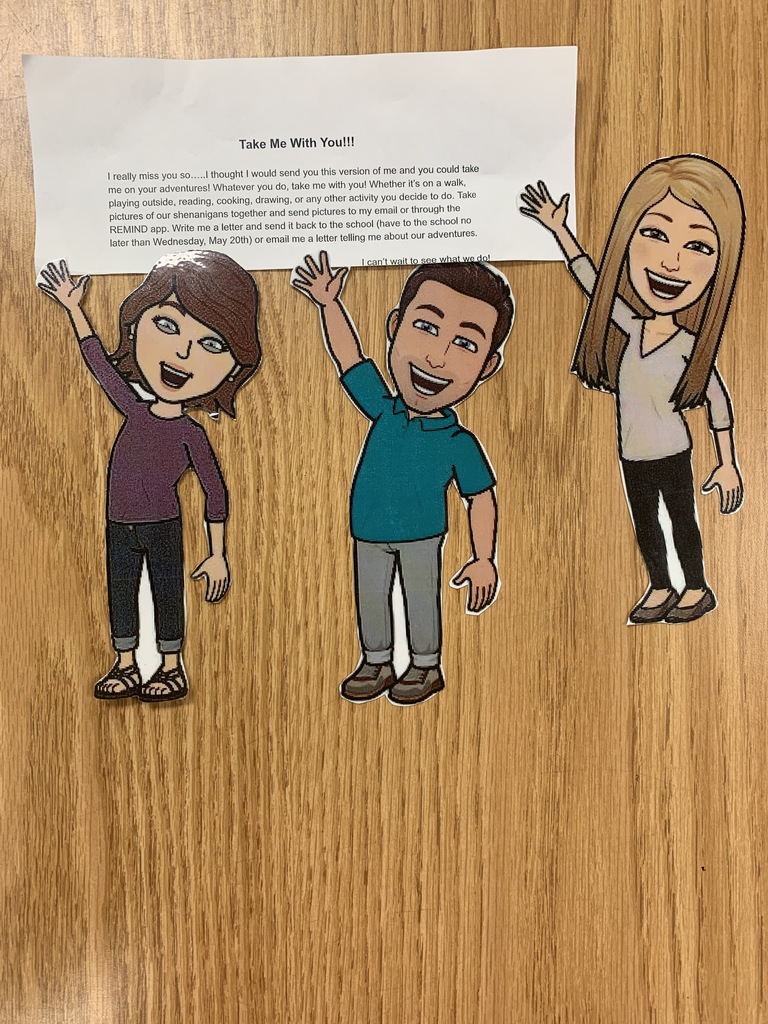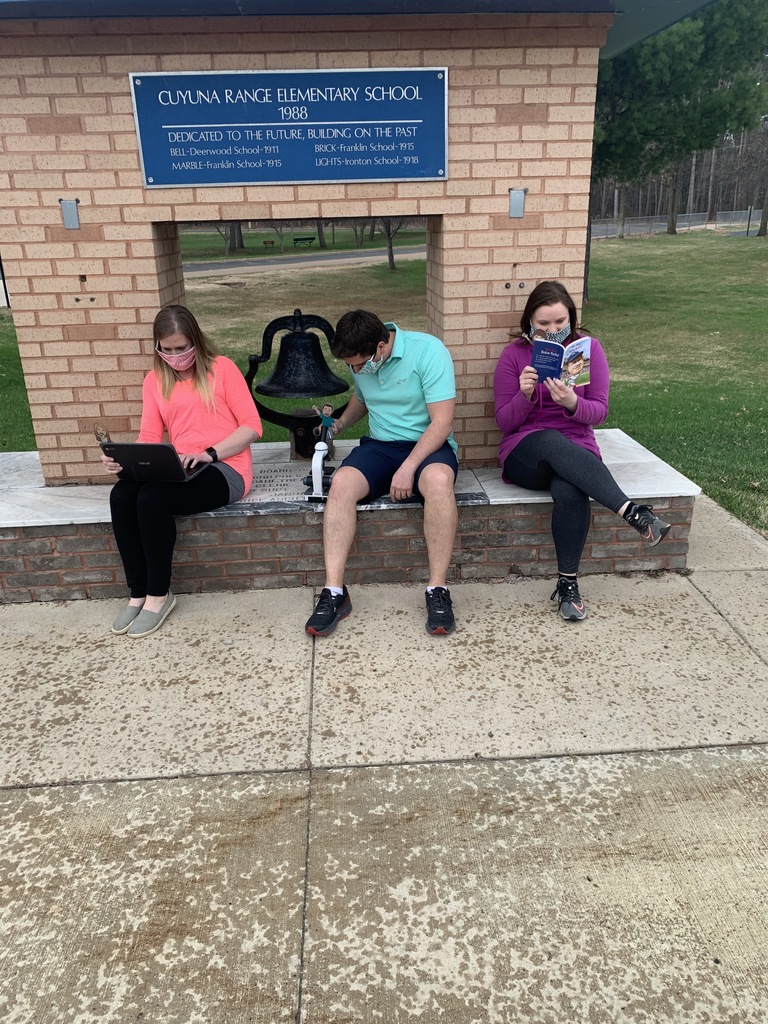 SENIORS We are excited to see you! Cap and Gown Pick Up is Monday, May 4, 2020 between the hours of 9am - 1pm. Please come to the student entrance by the HS office. There will be staff to direct the flow of traffic so we are following social distancing requirements. Items must be paid in full upon pick up. If you are unable to come, please make every effort to find someone to pick up your items. If you cannot find someone, please contact the HS office at 218-545-8802. **Seniors are also able to pick up yearbooks at this same time. Yearbooks: **All students are able to pick up yearbooks Wednesday, May 6th, 10-1 or Friday, May 8th, 10-1.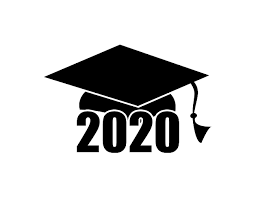 Mr. Gindorff and Ms. Larsen were honored last night at the Sourcewell Educators of Excellence ceremony. Congratulations to the two of you, you make us proud!! #GoCIGo